The day I turned 18, I could never get over the euphoria of neighbors, senior high school
friends, and co workers of my beloved mom and dad, who took the time out to celebrate
with me. No, I didn't have an extravagant debut party for I was, by nature, a very simple
person who was content with the bare essentials in life.
The DOLL HOUSE at our backyard was actually, believe it or not, the venue for my
18th birthday. Yes, I had the privilege of owning a life-sized doll house that could raise the eye-
brows of the affluent parents of a rich kid in Beverly Hills.
My family wasn't materially preoccupied.Rather, my parents were true blue Christians
who raised me and my brother in upheld values. In the neighborhood circuit in ITALY, our
family was known as "the family that prays together,thus, stays together."
The subsequent title made us all proud, especially my dearly devoted mom who was
sometimes self-righteous. Once, my brother called her "Hypocrite and fanatic." and he got grounded for weeks.
Well, to begin with, I once cherished a DOLL that resided in the Doll House. And I
christened her MIA.
How did I come upon Mia? Well, I spotted the creature at a doll show in Milan. There
were numerous dolls on display at the show and they came as far as Greenland. It was sort
of an exhibition of the "the most authentic, ingenious, and glamorous dolls of the planet." The
top prize I could not vividly recall,though my mom told me it was close to half a million dollars.
MIA, by the way, was a doll package from Russia. She wasn't the least bit attractive but she carried an irresistible aura that I could not withhold. Therefore, I got her and bought her.
She wasn't that costly. At that particular time, she was the only one I could afford.
I had MIA when I was five. She used to be my pet doll and showered her with all
the attention I could muster.But soon, I 'd grown tired of her constant presence and decided
to buy other dolls-newer,fresher, and lovelier. That's when all the trouble crept up, I guess.
I never thought of Mia again after I had new dolls. I had set her aside and even forgot
where I kept her for the meantime because I was darn too busy with my more precious dolls.
That's when the bigger trouble built up. In fact, it grew into a RAGE, an uncontained rage that
went on, simmering here and there,at the Doll House.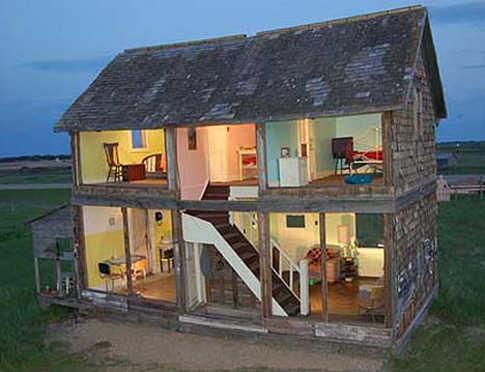 On the eve of my 18th birthday, the pent up rage metamorphosed into a
concrete being-rushing, enveloping, and spreading into the privacy of my quarters.
After the guests had left, and my mother had cleaned the clutter in the
doll house, and my brother had gone out with his equally sick and wacko buddies,
I SAW AN IMAGE in the staircase. It was an image that caused the plate of cheesecake
to slip away from my firm grip. And I had blood all over my feet because of the shattered porcelain.
"ISABELLA, darling, are you gonna sleep in your doll house so we can lock
up the living room for now?", my dad queried in a cordial manner from over his window on
the second floor of our main house. He waved at me momentarily and let go in a few
seconds.
'Yes, Daddy!" I half-wailed and half-hummed. "Jonas shall join me later."
"Oh, your brother will sleep over his friend's house, he told me a while ago.",my
dad suggested and slowly closed his window."Good night sweetie pie!".
"Night Daddy..."
I didn't believe in ghost stuff and even if I saw one, I had to touch the thing to be able
to absorb its entity. Otherwise, it was just another product of a weird imagination or as what
my Jonas coined,"a fucked up hallucination".
But some beliefs crumble at certain,odd times particularly when you're a debutant
and preparing for your freshman year of college and mapping out your future together
with your boyfriend.
And why of all why's would a mad creature in a box appear before me at hand, as if
ready to condemn me and pounce on me any minute?
What, in nature's name, did she want?
WHAT DID SHE WANT FROM ME?
Why stare at me with dead eyes which seemed to originate from a graveyard?
"ISABELLA...ISABELLA...why...why did you leave me?" The abandoned doll in the brown
box pursued me unrelentlessly down the stairs.
I stepped back in a quirky way, evading her every gaze.
And boy, where did her voice come from? It reverberated like a whirlpool of cold
whispers.
"I'm sorry,but I don't know you. I never knew you."
"MIA...have you forgotten? I was your favorite doll.We were like sisters."she pleaded
mercifully.
"I've had so many dolls before...you were one among them...I'm sorry I can't recall."
Isabella was now losing her confident manner and about to relapse from the unexpected
encounter with a talking doll. She must have gulped too much punch during her party.
"Isabella, why did you throw me away?"
The life-size doll came forward, urging to touch a hem of my purple dress.
"Stay away from me, you freak! Tomorrow, when this is all over, I'm going to laugh
at myself for this stupid mistake!" I sliced my words in a commanding way.
"Of course, you won't do that. You won't wake up. You shall join me in my misery."
Mia unruffled a cloth that contained a wide and long ROPE.
I was left in total wonder and didn't know if I wanted to prick her wax hands first
or her legs. "Stop your drama and let me sleep now. Have some respect please, it's
my birthday..."
Mia tightened the rope and lurched further toward me."It shall also be your last...
let's make your 18th year memorable Isabella."
"You dumb jerk!" I belched and moments later, I began to choke and felt the
real immersion of the rope on my whole being. My neck was about to rip off.
"See Isabella, I told you it's real. Next time when you buy a toy, don't throw it like
trash. It deserves better than that." Mia knelt before me and caressed my weeping
face.
And that scene, dear readers, was the end of her. Before I forget, I am
now writing this memento of a dire event. We exchanged a deal. I'd let her live but
she would get stuck in a living doll.Nobody would know where she went.
And I became the new ISABELLA.